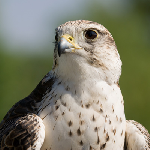 From April 14th Candidates completing Raptor Awards certification will be able to study a new module "Flying unrestrained birds of prey". This brings the total number of modules in the series to nine.
The full suite of modules now includes: Accommodation and equipment, Feeding and nutrition, Monitoring and maintaining health, catching and restraining birds of prey, Legislation, Falconry furniture and equipment, Species characteristics, Initial training manning and weight management, and flying unrestrained birds of prey.
Successful candidates must demonstrate that they have the underpinning knowledge and understanding for each module, and have their practical skills formally assessed.
Find out more about how standards are developed here: