In association with the Training Team at the City of London Animal Reception Centre we are offering a series of training days for Inspectors needing to visit Bird of Prey premises.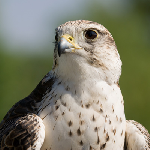 This full day programme is designed to give you a broad understanding of what constitutes good husbandry practice, and how to identify poor welfare practice.
As well as providing an introductory overview of birds of prey and their care and management we will discuss in detail:
Accommodation – including transport and temporary housing
Tethering
Food and water provision
Exercise
Enrichment
Staff competence and training
There will be lots of opportunity for questions and in depth discussion, and we hope to make the day entertaining and engaging for you.
CPD Certificates can be issued to attendees if required.
"Fantastic and informative course, really useful"
"I came here today with very limited experience of birds of prey. I now feel a lot more confident"